Jellystone Park™
Goes Green
We want to thank all of you for helping us. Together we can make a difference.
You can help by:
Utilize the Recycling Center
Place aluminum cans in the recycling bins.
Place aluminum and plastic in green recycle bags at your campsite, and we will recycle for you.
Recycle bags are included in your Goodie bag at check in and can also be picked up at the Ranger Station or the Gate House.
Keep cabin and RV doors closed when heating or cooling.
Keep your thermostats at conservative levels.
Please report all water leaks to the office.
Only burn wood purchased within 50 miles of the park.
NOW OPEN YEAR ROUND-BRENTWOOD VACATION HOME RENTAL
    E10732 N Gasser Rd,              Baraboo WI 53913
Brentwood is the perfect get away for a family or group of friends for a Wisconsin Dells Vacation.  Relax in the family room where you will find a 55″ TV for the games and gas fireplace for Wisconsin winters.  There are 4 HD4K TV's and WIFI.  Enjoy the large exterior deck or fire up the gas grill for a family cookout.  There is also a fire pit for a bonfire.  This 4 bedroom, 3 bath 2-level farm-style home is equipped with all your needs including a fully equipped kitchen with stove, refrigerator, microwave & dishwasher, large dining table with banquet seating, central A/C and heat, washer/dryer and garage.  Set on the large grassy lot with plenty of room for kids to play or for adults to enjoy a game of bags. Brentwood is just minutes away from all the Dells attractions or hiking at Mirror Lake State Park and a short walk to Outlet at the Dells Mall.  Rental of Brentwood from Memorial Day weekend until Labor Day weekend (May 25-September 3, 2018) will also give you exclusive use of Free water activities at Jellystone Park™ with 25 water features and 4 waterslides, located 1 mile away. Designed with the teens in mind for high energy, the adjacent activity pool area has a great tri-spiral waterslide, basketball hoops along with a floatable turtle.  Parents can relax in the hot tub while sipping a cocktail from the poolside bar.
$500 REFUNDABLE DAMAGE DEPOSIT REQUIRED
3-NIGHT MINIMUM STAY
SORRY, NO PETS ALLOWED
Camper Rentals at Yogi Bear™ Camp-Resort & Water Playground in Wisconsin Dells
Welcome to The Water Park Capital of the World with the only campground in Wisconsin Dells www.dellsjellystone.com with FREE water activities INCLUDED FREE WITH YOUR STAY! Families with small children will have a blast at the only water playground with a Jellystone Park™ theme and Yogi Bear™ characters teeming with 25 water features and 4 waterslides. Designed with the teens in mind for high energy the adjacent activity pool area has a great tri-spiral waterslide, basketball hoops to burn up the energy. Relax in the hot tub while sipping a cocktail from the poolside bar.
When your family is ready to dry off, enjoy 12 hours of FREE arts & crafts & autograph sessions with Yogi Bear™ characters. Bear-rific and 20 weeks of special events such as Winter Wonderland Christmas Week, Hawaiian Tropical Bear-a-dise Week, Mardi Gras Madness Week, Fright Fest Halloween Week, Camper Appreciation, just to name a few. Check out the complete list of daily and weekly events at www.dellsjellystone.com/events.
Campsites:Value priced Water/Electric, Big Rig RV 50amp,  Red Carpet Camp-Suites & Character Theme Sites. Read about them at www.dellsjellystone.com/camp-sites.
Outdoor Lodging:Boo Boo™ Chalets that sleep 4-8 persons, some with bath & kitchen, Ranger Smith™ Family Lodges, Cindy Bear™ Cabins which are a great value, or Yogi Bear™ Bungalows with air/heat that sleep six. Check out www.dellsjellystone.com/outdoor-lodging
Located next to Outlets at the Dells Mall. Check out the June Saver, July/Aug weekday specials, ShopNCamp and Kalahari Packages at www.dellsjellystone.com/special-and-packages.
Explore all the things to do and places to stay in Wisconsin Dells – "The Waterpark Capital of the World!®". We may be world-famous for our waterparks, but that isn't the only reason to visit the Dells. As one of the most popular Wisconsin vacation spots, there are many other reasons everyone loves Wisconsin Dells in the summer. Like live entertainment, thrilling attractions, luxe to cozy accommodations, and dining options to please any palate. Oh, and let's not forget the outdoor waterparks! But the best part? There's always more around each and every corner. Start planning your Wisconsin Dells summer vacation today!
Three of the largest waterparks in the country are right here in Wisconsin Dells. Noah's Ark Waterpark is situated on more than 70 acres of land and has roughly three miles of water slides. If the weather is rough, visit Kalahari Resort Waterpark, the largest indoor waterpark in the state. Finally, Wilderness Resort is the largest combination waterpark, coming in at a half a million square feet!
There's lots to do in Wisconsin Dells if you're an animal lover. The Timbavati Wildlife Park and Wisconsin Deer Park offers up-close interactions and observation of more than 400 different animals.
The Dells is one of the more highly entertaining vacation destinations in the country, as evidenced by the list of live entertainment and theater options below. Ski stunts, larger than life magic tricks, nationally recognized entertainers and acrobats flying through the air – we just know you'll enjoy the show. Tommy Bartlett Show is a Dells Classic. View 90 minutes of Live Ski, Sky & Stage entertainment. For nightly entertainment, a must see is the top tier Hollywood performers at Crystal Grand and Palace Theatre or for more lively interactive entertainment, check out the Dells Lumberjack Show!
How Much is it to Rent an RV at Yogi Bear™ Camp-Resort & Water Playground Wisconsin Dells
Wisconsin Dells is a great place for vacation, especially if you love the outdoors! Of course, one of the most affordable ways to stay is to rent a camper at Yogi Bear™ Camp-Resort & Water Playground Wisconsin Dells. Thanks to RVshare, you can find hundreds of local RV rentals by owner. When you rent from the owner directly, you'll enjoy personalized customer service and low rental rates. Though rates vary depending on RV type, size, and age, you can expect to find the following ranges:
Class A motorhomes cost between $100 to $250 per night for older models and up to $450 per night for newer ones.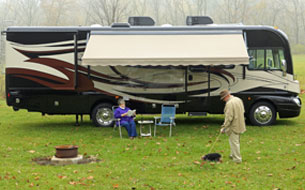 You can find Class B rentals for about $90 per night for an older rental and roughly $250 per night for a new one.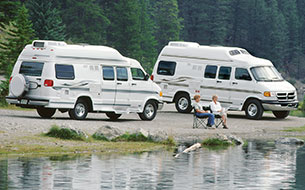 Class C models average about $150 per night for older models and cost up to $400 per night for a new one.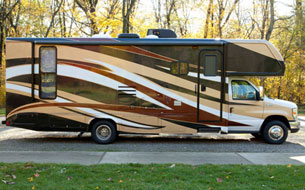 Travel Trailers and Fifth Wheels range from $50 to $150 per night for older models and up to $300 per night for newer ones.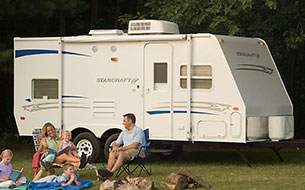 Pop-up campers and truck campers are the cheapest of the bunch. Some are as low as $30 per night, while larger, newer models go for up to $150 per night.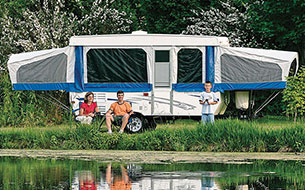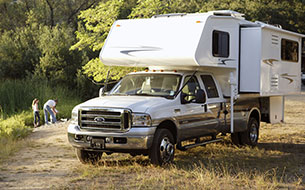 Cheap RV Rentals at Yogi Bear™ Camp-Resort & Water Playground Wisconsin Dells
Whether you're looking for luxury or trying to stick to a budget, you'll find everything you need with RVshare and Wisconsin Dells Yogi Bear™ Jellystone Park™. Our pull-through sites can accommodate even the largest campers, while our basic RV rental sites offer an affordable way to camp while still having the comforts of home within arms' reach. No matter how you camp, be sure to set aside plenty of time for fun in Wisconsin Dells. From our famed water parks to our numerous outdoor activities, you won't have to travel far from your Yogi Bear™ Camp-Resort & Water Playground Wisconsin Dells RV rental to find a good time.
YOGI BEAR and all related characters and elements © & ™ Hanna-Barbera. (s17)
Making Reservations
Choose from three ways to make your next reservation: Use our website – www.dellsjellystone.com and make your reservation on-line 24 hours a day.
Call us at 1-800-462-9644 or locally at 1-608-254-2568.
Make your reservation while you are in the park for your next visit.